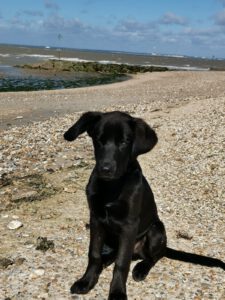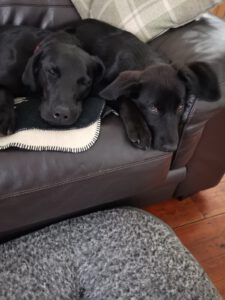 A Worship Song featuring Lucy Stimpson- Maynard from the album Where Would I Be Without You? recorded and produced by Ross Gill
So as promised last week – why did we get another dog?
Well Genna our lovely black Labrador will be 2 years old in August. Although she won't be having puppies, we always thought that she would make a great mum- we also thought it would be nice for her to have a play mate.
The next part is a bit of a long story but basically we had two house rabbits that lived on the top floor  of our house- (we are fortunate to have 2 floors) Rabbits, as I am sure you know, need hay and we found the best hay was to be found at a local farm. The local farm had a black male Labrador and a female Border Collie- both who were able to be parents. (!) Well at the time that the Border Collie was fertile the farmer left a gate open and the Labrador took his opportunity with the result being a litter of 5 puppies.  When Caroline, my wife went to buy some hay she fell in love with "Angus" the only boy in the litter.  At the same time Caroline discovered that the daughter of the farmer loved rabbits and so Caroline "soft soaped" me for a few days until I succumbed and we swapped two rabbits for one "Borador" ( the trendy name for a Lab/Collie cross.) Some money also changed hands- in the direction of the farmer not us!
"Angus" did not stay "Angus" for long – we toyed with lots of names but "Dylan" is a Welsh name and we love going to Wales for holidays – it also means "Son of the Sea" and as we live opposite the sea that almost clinched it – when we realised that "Dylan – The Villain" was also extremely apt "Dylan" he became!
You may be thinking is there a point to this story? Is this some sort of parable – where is the hidden meaning. Well in fact its just a true story – simple as that!
Next week back to the music with info on our second virtual choir project.
Quote of the week
Faith is not a feeling – it is a choice.
Elizabeth Elliot