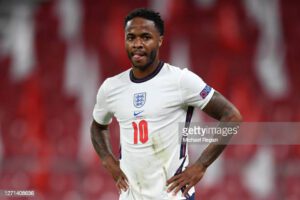 As regular readers of this blog will know, I am a Manchester United fan so it would have to be something big for me to write anything positive about a Manchester City player. Well, Raheen Stirling is, at present wearing the white of England rather than the sky blue of City plus he has just scored in two of the Euro games and yes, you have guessed it, Raheen Stirling is a Christian. In fact, he has described his Christian faith as "massive."
Speaking to former political spin doctor turned writer Alistair Campbell, he said: "My faith is massive to me. I always give thanks for my life, always give thanks for my family's life and I'm just really grateful for the position I'm in.
Sterling, 26, says he was brought up in the church and his mum taught him about faith from an early age.
When he moved from home, he says his faith deepened and now has "no doubts" that God exists.
"I know for sure," he said. "Every day you wake up, you just look around and you don't need to look any further than what you see.
"A lot of scientists, the cleverest people in the world tell you that there has to be a creator. And they need answers, but you just have to sometimes accept that it's bigger than you and you have to leave it at that."
This was taken from Christian Premier News and was part of a longer interview which can be seen here: https://youtu.be/oRHBSoCiHMc
Some other information about Raheem that you might find interesting is:
Raheem was born in the Maverley district of Kingston, Jamaica, and spent his early years there. His mother, Nadine Clarke, was previously a competitive athlete in the Jamaican national athletics team; Sterling credits her for his unique running style. His father was murdered in Jamaica when Sterling was two years old. At the age of five, he emigrated to Neasden, London with his mother, and attended Copland School in Wembley, North West London. Due to behavioural problems, Sterling spent three years at Vernon House, a specialist school in Neasden
Raheem was appointed Member of the Order of the British Empire (MBE) in the 2021 Birthday Honours for services to racial equality in sport.
Quote of the week