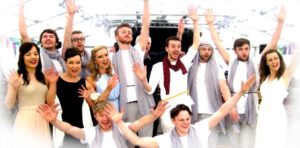 Today is Ascension Day -celebrated by the Christian Church as the day in which the Resurrected Jesus ascended to heaven watched by His disciples.
It is portrayed in today's featured video – Episode 3 of Risen! The Musical – "Galilee to The Ascension."
My sincere thanks to my old friend Ross Gill for dividing the whole of Risen! The Musical into three "bite sized" episodes.
Today is also the anniversary of the fifth anniversary of the first professional production of Risen! The Musical – May 21st 2015. It was performed at the Coventry Pentecost Festival
Quote of the week
You'll never get to a person's soul until you understand their hurts.
Ravi Zacharias